About
The Higher School of Economics Publishing House
was established in 2000. It specializes in scientific literature, textbooks and reference works related to the university's curricula in economics, management, sociology, political science, psychology, and law, among other disciplines.
We publish approximately 160 titles every year. Our back catalogue currenly includes 1700 books. Most of our publications are works by Russian authors who are professors, lecturers and researchers from the HSE faculty. We also undertake Russian language translations of classical works by Western authors and actively cooperate with world's leading publishers to license their titles. We have licensed more than 150 scientific and educational titles for translation, of which 100 have already been published.
The HSE Publishing House has several book series. The first such project — the HSE Textbooks series — has produced 50 titles since its inception in 2003. In 2009, the Higher School of Economics started a number of serial projects dedicated to major social and economic sciences, as part of our long-term publishing programme. The new series include books by leading Russian scholars and their foreign colleagues. Five series were initially announced: Economic Theory, Social Theory, Political Theory, Theory and Practices of Education, and Cultural Studies. By 2019, a total of 130 titles had been published in these series, and additional 20 titles are currently being prepared for publication.
In 2014, the Theory and Practices of Education series was transformed into the Library of the Educational Studies Journal series, which is populated by the efforts of the namesake journal's editorial board. This project has resulted in publication of ten books, with further six in the works.
In 2011, we started the HSE Textbook Translations series, dedicated to subjects in HSE's curriculum. Books from leading academic publishers, such as Cambridge, Oxford, Princeton, Stanford and others, were selected for inclusion in the series. Eight textbooks have already been published: Handbook of Procurement, ed. by Nicola Dimitri, Gustavo Piga, and Giancarlo Spagnolo; The Economics of Social Problems by Julian Le Grand, Carol Propper, and Sarah Smith; Researching Entrepreneurship by Per Davidsson; What Is Anthropology? by Thomas Hylland Eriksen; Communication Power by Manuel Castells; Games and Decision Making by Charalambos Aliprantis and Subir Chakrabarti; Advanced Macroeconomics by David Romer; and Democratization, ed. by Christian Haerpfer, Patrick Bernhagen, Ronald Inglehart, and Christian Welzel. Ten more books are being prepared for publication in the series.
The HSE Publishing House and Cambridge University Press collaborated on a project to help Russian readers master professional English in specializations from HSE's curriculum (e.g., Economics, Business Informatics, and Sociology). In 2012, we launched the English for Professionals series, which includes teaching aids for the textbooks English for Business Studies by Ian MacKenzie and Professional English in Use. ICT. For Computers and the Internet by Santiago Esteras and Elena Fabré.
The HSE Publishing House has sold translation rights to foreign publishers. In 2001, the English rights for the textbook Mathematics of Financial Obligations by Alexander Melnikov, Sergey Volkov, and Mikhail Nechaev were sold to the American Mathematics Society. In 2016, the rights for an English edition of the textbook Geometry of Hamiltonian Systems and Partial Differential Equations by Vladlen Timorin, which is to be published in the end of 2016, were sold to Springer International Publishing.
The HSE Publishing House hosts more than a dozen book launches each year, which include appearances by both Russian and foreign authors. These events are popular among scholars and students and are extensively covered by the media. Book launches traditionally use HSE premises, but lately other venues have also been employed, such as the Central House of Artist on Krymsky Val, the Muzeon Park, and the Falanster Bookstore. We also use opportunities provided by book fairs — for example, we launched our books on the annual Books of Russia Festival on Red Square, which has been held for two consecutive times. Since 2015, the HSE hosts the School Yard book fair, dedicated to a new academic year. It opens on the first weekend of September in the inner ward of the main HSE premises at 20 Myasnitskaya ul. In 2016, this fair's participation reached more than 20 publishers and 1500 visitors.
Our books routinely get reviewed by Russian journals and magazines such as Expert, Voprosy Ekonomiki, Book Industry, HSE Economic Journal, as well as in newspapers such as Vedomosti, NG Ex-libris, Book Review, AiF and Izvestia. In 2015–2016, the book Grammar of the Order by Alexander Bikbov was reviewed by French academic journals Cahiers du Monde Russe and Revue d'études comparatives Est-Ouest. Book excerpts are also published by online media, such as Lenta.ru, PostNauka, Pro Оbshestvo, and others.
Books published by the HSE Publishing House have been honoured by virtually every award in the Russian publishing industry, and also gradually gained international recognition. We are very proud of the 2003 Awards from the Book of the Year National Competition by the Federal Agency on Media and Mass Communications, which are considered the Oscars of the book world in Russia. In 2015 the Publishing House was recognized as a leader in Russian university publishing and awarded a Golden Diploma and a Big Golden Apple of the 7th University Book AllRussian Competition, organized by the Universitetskaya Kniga magazine. The HSE Publishing House is present at major international book fairs, as well as national, local, and regional fairs and trade shows. We regularly exhibit our books at the Non/fiction International Fair for Hiqh-quality Fiction and Non-Fiction, the Frankfurt Book Fair, and the London Book Fair.
In November 2019, we attended the 51th Convention of the Association of Slavic, Eastern European and Eurasian Studies (ASEEES), San Francisco (USA).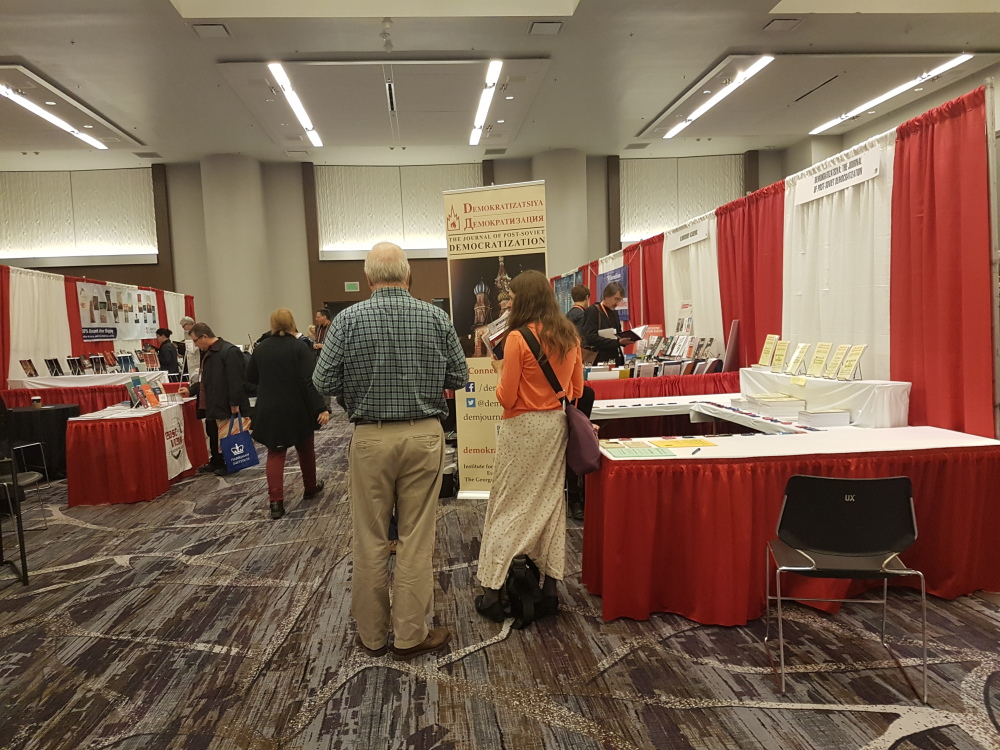 We hope that our publications will attract the attention of Russian-speaking scholars from abroad. Our wide distribution network includes 200 book trading partners in Russia and abroad. Outside Russia, you can buy our books through Kubon & Sagner Media, which serves customers in Europe, Asia, and the Americas, the Russian Bookshop at Waterstones Piccadilly, London, and the online catalogue of Natasha Kozmenko Booksellers, which is used by foreign libraries for Russian book acquisitions. HSE books are available in pupular electronic formats, such as pdf, ePub, Mobi and others. I
In 2016, we entered eBook distribution agreements with major providers of electronic books that operate the entire world, such as Amazon, Google Play, Kobo, OverDrive, and more than 300 sub-vendors. We actively chase these perspective developments which help make our books available to readers everywhere, especially in areas not covered by book stores and delivery points. Today Amazon.com already hosts 17 titles from out catalogue in electronic form, while more than 100 titles are currently being processed and will appear online very soon.
In 2009, the HSE Publishing House opened its own retail outlet — the BookVyshka university store — located on the ground floor at 20 Myasnitskaya ul. 'Vyshka' refers to a HSE nickname which is popular among its alumni. The store stocks both HSE publications and books from major foreign publishers in English, French, German, Chinese, and Italian languages. The list of publishers includes Oxford, Harvard, Princeton, Stanford, Yale, Longman, Collins, Pearson, Penguin, Kaplan, Barron's, Cengage, BPP, Usborne, Quercus, Ullman, Prestel, Cambridge, Palgrave, and others. BookVyshka also sells academic textbooks and guidebooks relating to HSE curriculum, as well as children's books and art books. The store's staff is highly experienced and fluent in English. Since its opening, BookVyshka gradually gained public acclaim. In 2013, it won the Best Specialty Store award of the Best Bookstore in Moscow competition, held by the Government of Moscow.
In 2014, the HSE Publishing House opened an online book store. The store makes our printed books readily available to residents of more than 300 Russian cities that are covered by the delivery network.
The HSE Publishing House publishes and distributes eight academic journals: Educational Studies. Moscow, HSE Economic Journal, Public Administration Issues, Law. Journal of the Higher School of Economics, Foresight and STI Governance, International Organisations Research Journal, Urban Studies and Practices, and the analytical review Russian Economy: Forecasts and Trends. Owing to our extensive distribution system, these periodicals are widely available in Russia; foreign subscriptions are available through by MK Periodicals and Informnauka agencies.
Director of the HSE Publishing House Elena Ivanova